Marilee Cole, Owner, Trainer, Cheeky Dog Obedience
Hi ! I'm Marilee Cole. If I am going to ask you to entrust me with teaching you and your dog, you should know something about me and my philosophy. I have always been a dog lover but over the course of time have learned there is a difference between dog lover and one who is in a relationship with their dog. I am happy to say, I am in a relationship with all my dogs that is continually evolving.  While, I have enjoyed a long career in Medical Management (and this pays the bills), my leisure and passion is and always has been the time spent working with my dogs.
I have been very fortunate to have a couple of incredible mentors in my training career.  Debby Boehm, to whom I will always be grateful, taught me to teach with fun for both dog and handler and finding the dogs true motivation for achieving success. Kathrine Breeden taught me how to view everything from the dog's point of view.  Both opened up a whole new world of training for me.  At every training conference, seminar, workshop and webinar I attend I learn something new.  I love to learn and the more I learn the more I love to teach dogs and their handlers.
However, my best teachers have been dogs.  Spooky, my first competition dog, was a gracious teacher who taught me how fortunate one can be to have a best friend to compete, travel and do everything in life with.  Then there is Quinn.  Quinn came to me as a 7 week old foster puppy from Arizona Border Collie Rescue.  Quinn is blind and he loves life.  He is not afraid to do or try anything and has done and tried many things !  Herding, Barn Hunt, agility, obedience, bike riding, hiking, playing in the snow and the ocean.  His favorite?  Retrieving and nosework !  And while he  has always been a little "cheeky", he is a sunshine dog and why shouldn't he be ? He has never had a harsh word spoken to him, he has always had positive and fun training. My dogs are tremendous teachers and, while, I am not always a consistent student, I am always learning.  I am not an advocate of shock collars, prong collars or choke collars and do not train with them. My training is positive, motivational and fun for both handler and their dog. I have trained and trialed dogs for over 16 years to titles in agility, herding and barn hunt. I also teach dogs how to be well mannered companions.
Training with fear, pain and intimidation doesn't build a bond and actually has the opposite effect. Cognitive learning is a process of discovering and understanding relationships of organizing and re-organizing information into meaningful patterns; emphasis on perception, decision making, processing of information, understanding and problem solving.  Cheeky Dog Obedience Training trains you and your dog with fun, motivational and effective science based positive methods.  Teaching a dog a skill set gives you tools.  Building a relationship with your dog gives you a bond and a friend for life.  I am a dog lover whose passion is the relationship I have with my dogs and I would enjoy the opportunity to share this with you.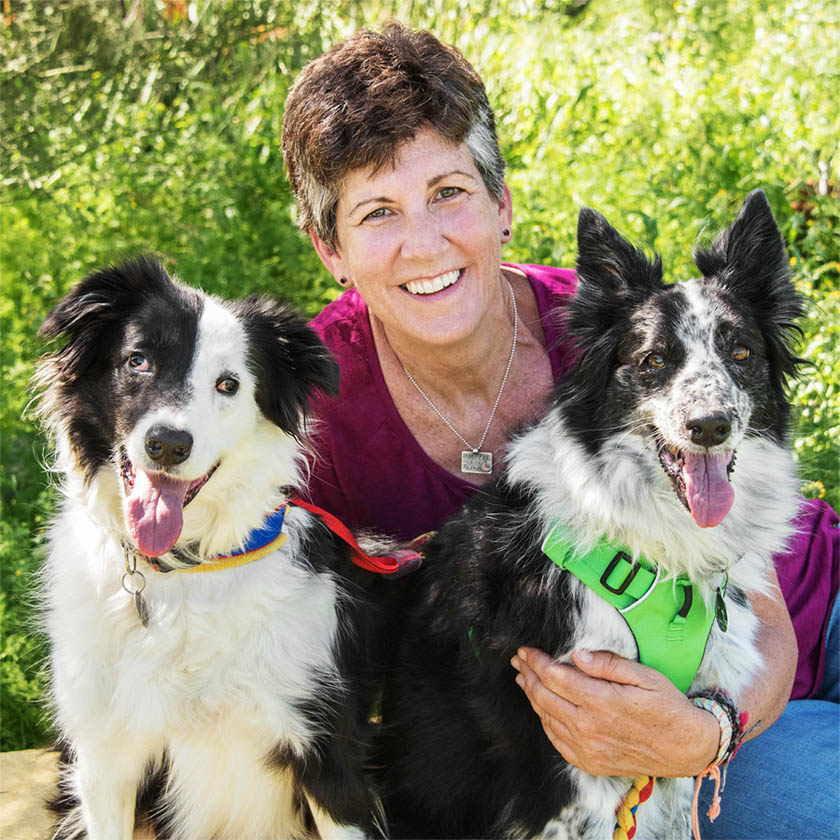 Cheeky Dog Obedience Philosophy
Cheeky Dog Obedience is built on the simple principle that dogs are intelligent, social animals that want to be with us,  need to understand what we are asking and deserve to be consistently and fairly rewarded for the behavior we want. It is our responsibility to ensure the training is fair, positive and fun!!!  If they are trained with fun, the dogs learn much faster and everyone has a much better experience ! I offer group classes that are active and positive, private lessons and in-home training.  The handlers must have a cheerleader attitude for their dogs and be looking ahead to a true partnership. I look forward to meeting you soon!
Do you need help with training or would like to do some fun activities with your best friend?
Check out my services page to find all the training classes and private training available for your dog. Also look over our awesome fun dog activities like nose work! We offer a very unique experience for you and your best friend!