Welcome to Cheeky Dog Obedience!
Relaxed, Positive Reinforcement Dog Training
We guarantee you'll love it!
From Foundation to Finesse
Cheeky Dog Obedience is sponsoring a 2 Day Scenting Event with Fred Helfers!
Just a few auditing spots still available!
Hurry and Sign-up now for the Event HERE!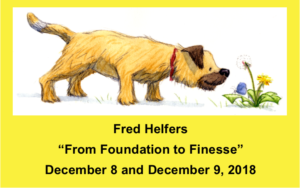 Fred Helfers will provide field instruction to the handlers on how to build their foundational handling skills to the finesse handling skills that are required in competition. These training sessions will assist each nosework handler in identifying and strengthening those problem areas of handling their dog. Invite family and friends to sign up for auditing spots to witness the amazing working teams in action! SIGN UP HERE!
Below are just a few of the many classes and activities Cheeky Dog Obedience offers!